Instant White Label Program Setup!
When we say "CBD" we mean all hemp-derived cannabinoids, not just CBD. That includes CBD, CBG, Delta-8 THC, Delta-10 THC, HHC, THC-O, and much more! Yes, we do all federally legal cannabinoids for your brand. 
With low minimums and fast turnaround, our White Label CBD program gets you to market fast with our best selling products.
Our White Label CBD Program is a turnkey solution for those who want to get started with their brand-launch quickly. We have hundreds of SKU's ready to go – are all proven super-popular, and sold in thousands of retail stores nationwide. 
We have a team of trained support experts available to assist getting started on your white label CBD project quickly. We know the in's and out's of the industry, and one thing we know for certain is that the faster you can get your products, the faster you will be selling them- and on your way to a successful business!
Our White Label Categories
Available Cannabinoids
CBD
CBG
CBN
CBDA
Delta 8 THC
Delta 9 THC
Delta 10 THC
THC-O
HHC
THCP
THCV
Product Categories
Gummies
Capsules
MCT Oil Tinctures
Keto Diet Oil
VG/PG Oil Tinctures
510 Thread Cartridges
2 gram Disposable
Vape Juice
Moonrocks
Pre Rolls
Flower
More Categories
Infused Edibles
Hard Candy
Topical Balms
Topical Creams
Massage Oil
Syringe Concentrates
Distillate 
Dabs
Kratom
Mushrooms
Skin Care
Our white label selection includes all products that sell extremely well in retail stores and online stores, including smoke shops, health stores, nutrition stores, online marketplaces, grocery stores, and more.
Contact us to inquire about our low MOQ for our white label program.
Hundreds of Popular SKU's to Choose!
White label with us! Use our product formulations with your brand labels.
Customers love our flavors, strains, strengths, packaging, bottles, and more. We know what customers want!
All we need from you is your labels. Fortunately, we have USDA compliant label templates ready to go. And if you need us to help create your design, we will do that for you as well!
Organics Fulfillment Compared With Other Companies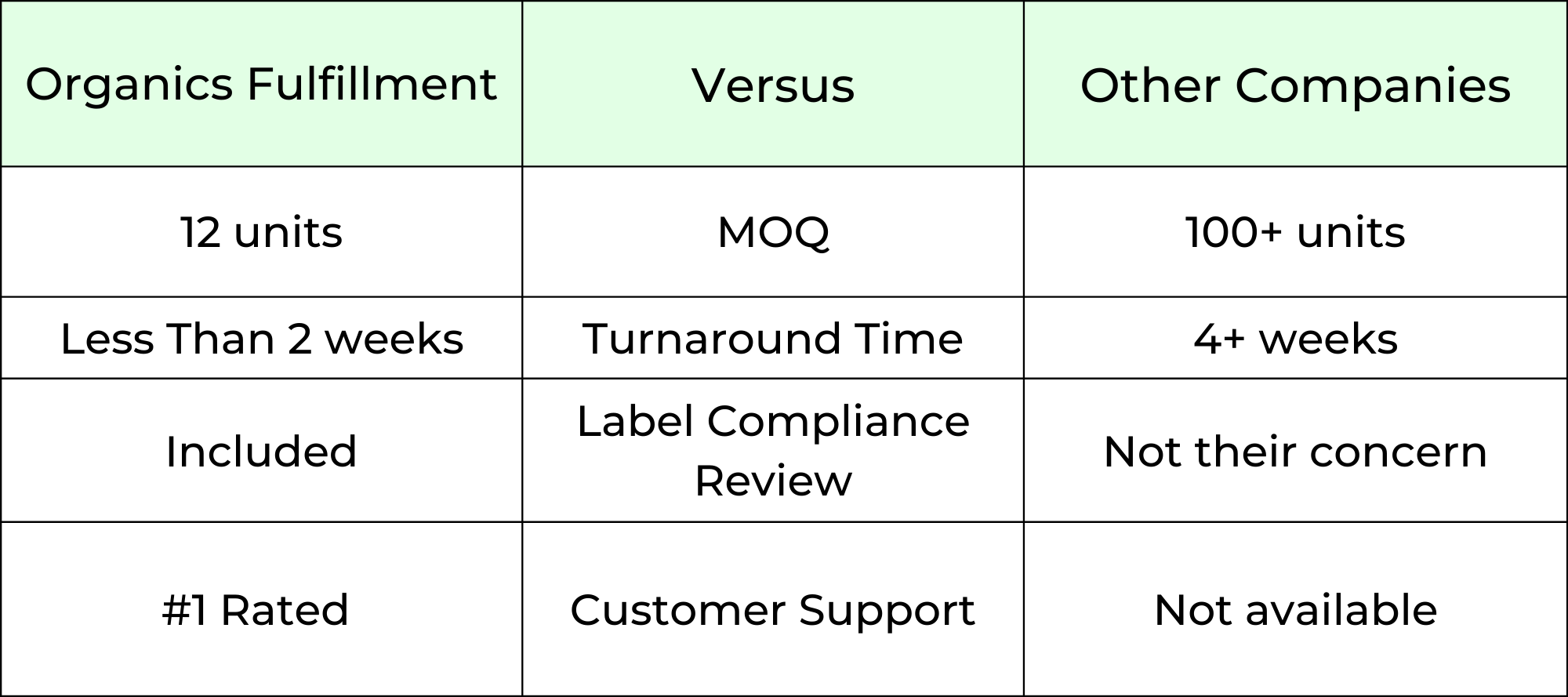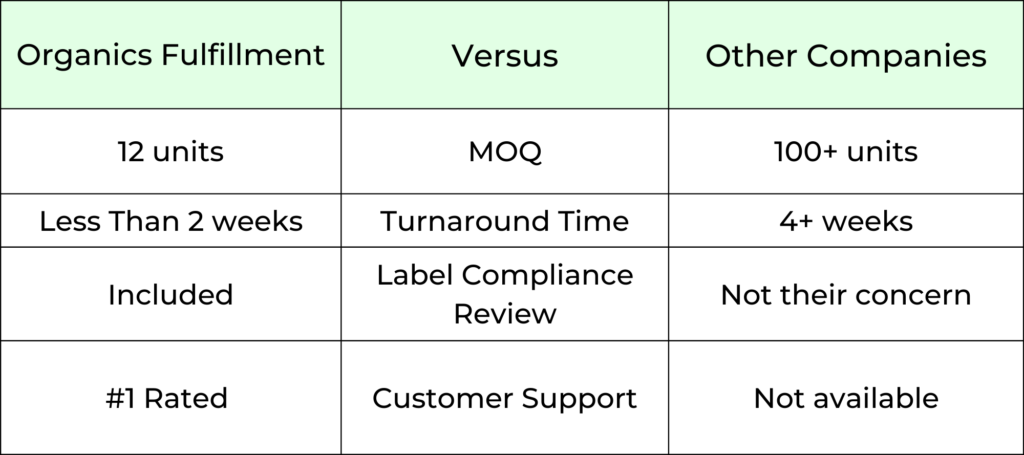 Our focus is not just on high quality white label CBD, hemp and skincare products, but it is in establishing and growing a genuine long-term relationship with you. We want you to be in business for years to come.
You will have an account manager who works closely with you and you will be able to reach us just about every day of the week.
Our standard business hours are Mon-Fri 9am-5pm, but you can reach us after hours by email to info@organicsfulfillment.com. 
Just starting your brand?
Start with our White Label Program
We recommend to begin with our white label CBD program, and then growing into private labeling later on.
You may never need to grow into our private label CBD program however, as you should be in good shape indefinitely with the hundreds of popular SKU's to choose from with our white label CBD program.
But ultimately if you do want to do custom formulations later on, you can do so once your business is in a good position to do so.
Start on our White Label CBD Program Today!